Community Solutions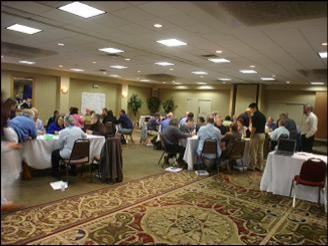 Sometimes a community needs to come together to address challenges that impact all its citizens. It might be to prioritize limited resources; develop a succession plan for town administration; or decide on the best use of open green space. Whatever the need, COPE designs processes to engage with the whole community, young and old, to collaborate, communicate, plan and develop.
Our Impact: Case Study
When a large county in a northern state wanted to grow its economy, it turned to COPE to develop an economic development strategic plan. Working with a steering committee of 20 citizens and four different community partner organizations, COPE designed a highly interactive process that engaged all sectors of the community, including over 500 citizens. What unfolded over the course of six months, was an inclusive and dynamic public process that resulted in a establishing a countywide vision, created more efficient access to capital and services, and incorporated sustainability in its goals. The process included multiple opportunities for community engagement through interviews, focus groups, meetings, and decision making tools. The final plan helped the County deliver improved economic development services and the work groups formed to execute the strategies ensured the plan would be implemented.